It's time, time for a well over due beauty product review. And today we are taking a gander at Clinique. More specifically Clinique beyond perfecting compact makeup + concealer. *This product did not work for me, and that doesn't mean that it doesn't work for you.*
Now I love Clinique. I think their skincare is top notch. The best I ,personally, have ever used. But their makeup always left me underwhelmed. (Even when I worked for them) Sure they had products that were cult amongst their loyal users. The Superbalance makeup. And then perfectly real makeup(which I loved until the formula kind of changed) I have been searching for a makeup that would replace my new fave from Too Faced, as I turned out I am allergic to it. Yikes!
I wanted something that could be a great on the go "mom compact" and this one from the description seemed promising. The reviews on ULTA were mixed. So I had to give it a go on my own.
All I can say is YIKES. The Clinique Beyond Perfecting Compact makeup is bad. And I mean really really bad.
It is bad you guys. At least for me, for someone else it could work. But for me it is bad.
How and why?
Well *takes deep breath* here goes.
First the makeup is a pain in the ass to spread. It clumps up on spots on my face. I end up using a chunky brush instead of the sponge. And that helps a bit. Yes I cleanse the skin with 3 step and preserve myself with alllll my other products. Allowing dry time for powder like this.
The other thing is pores. You will see them on your face as if they were the beacons of Gondor. I didn't  realize how bad they were on my forehead!
It sometimes doesn't sit on the skin right and shows even the slightest dryness. If you have fine lines and wrinkles say hello to them even more because this stuff highlights them!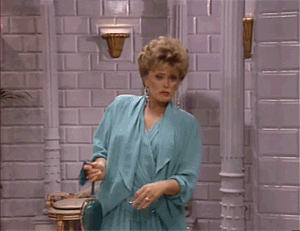 The Clinique Beyond perfecting compact makeup  is a medium to full coverage powder compact. And as far as concealer..Buh. Marketing ploy is Marketing Ploy. It covers sure but not like a powder and concealer. This is like a 2 in 1 shampoo conditioner.  It is not a worth while combo. 
And lastly, buildable coverage? Yes, but it comes at a price. The cost? Looking like you are wearing a gallon of make up that will only be able to be removed with a chisel. Unless you hug someone. The transfer is awful. I mean you sneeze and the makeup comes off. You rest your head on a pillow? Bippity Boppity MAKEUP! Now your face is imprinted on that square. OH get ready for oxidation.
Try these compacts and concealers instead!
So final thoughts? I was hopeful. I really was. I was hoping that it would be a great product and have massive results. And in the end full total disappointment. If there are any pros, well if you use a brush and not the sponge it is better, but the coverage is more sheer . I guess that is ok, however if you need touch ups it cakes.
Why did I switch from Loreal? At the time several stores were out of my shade. And so I thought I will try this instead. YUCK.
So I think that you need a concealer still and a powder compact for the on the go. But again that is just my opinion and this is something that you may like and it works for you. If it does and you don't experience what I did, then that is superb!
Here is what I actually pack in my "SHIT I AM RUNNING LATE" Makeup bag.