The other day, Monday I think, I was wearing the cutest thing. I had my hair all cute, my face on, and accessories. Big mistake. Wearing necklaces, earrings, and things like that are a bad idea with a 8 month old baby. An 8 month old baby with grabby hands syndrome. He has to grab anything and everything!  My necklace went bye bye and my earrings were next.
Oh lord. So what do I do? I went with bracelets and statement rings. And what a diiference and baby safe! You can still accessorize and be safe from baby.
Here are some idea below!

This cute fox ring is great for some needed spunk! 20% Off First Order of Chicnova Fashion
This ring from Kohls is a beautiful sparkling statement ring!

Pyramid rings or shapes are still in!!
Of course this would not be a statement ring post without mentioning Bestey Johnson!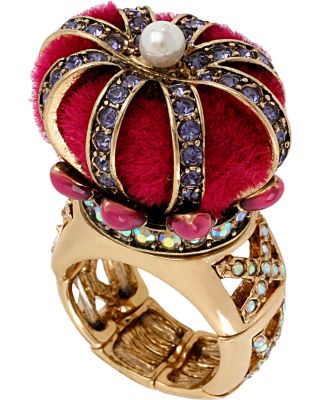 I love how big and bold her jewelry is! Enjoy 10% off $50 + Free Shiping at Betsey Johnson using promo code BJNOV10 offer valid through 11/30