Hi there friends! I want it to be fall right now, I want to drink my pumpkin spice latte and not feel like a total weirdo loser. (I am on my third cup of Dunkin pumpkin spice.) Don't worry when Christmas gets closer I will be complaining that I want it to be colder and be able to drink my Santa's White Christmas without being a weirdo freak monster. I want it to be fall or as fall as we get down here so I can do a couple of things.
Wear OTK boots without looking weird.
Wear boots
be boots
wear scarves without dying and with a cute pin
drink fall beverages
Halloween
Halloween
THanksgiving for gluttonous reasons
pumpkin SPICE ALL THE THINGS!
SO there are a few reasons. Another is being able to pokemongo without sweating to death. Yea I like pumpkin spice in small doses. But also I get to vary up my clothing options a bit and not look as weird.
Which brings me to today's outfit! I love maxi skirts that is not a lie and you all know it! there are numerous reasons for them being a staple. One being if I am lazy
And I don't feel like shaving or have not epilated in a while. And also apparently you can hide a dagger really well. (not that I suggest that at all.pls don't)
But also maxi skirts as I have said a bazillion time are truly unseasonal. Meaning they can go from Spring to summer, summer to fall, fall to winter, winter giving spring and summer a miss and going straight on into Autumn. You can wear them year round people. So that makes them worth getting.
ANd you can twirly whirl in them.
This skirt I got from Shabby Apple a few years ago and it has not let me down! I got it on sale and love it! They have such great pieces. Some on the pricey side but you get decent quality.
I also wore a basic tank top from Target and really it is so comfortable.
Now the shoes are anothing thing. If you feel you are too petite to wear a maxi skirt, you CAN! Put on some great heels and go! This skirt while I have worn with flats does better with heels on. Give it a try!
NOw I am going to go sip on some Pumpkin spice while playing some Dragon Age on my Xbox, toodles!
Steal my style
Shirt: TARGET I like this one here
Skirt: Shabby Apple similar here
Shoes: ALDO similar here
BAG: EXPRESS not available in gray but other colors here
Hat: ALDO similar here
Participating in the following linkups!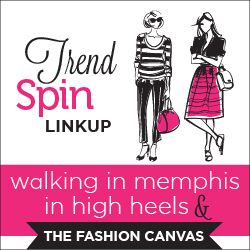 This post contains afflilate links.