Hey there gang! I just wanted to share that the Guess factory store is having a sale 30-50% off! I went online to get a shirt from there and look at their kids clothing and I saw the sale! So I wanted to show some things that I am thinking about getting. There is a particular pair of linen pants that just look so comfy for spring and summer that I must have them! Got to love online shopping, you can sit in sweatpants with goofy goober socks and a glass of wine or in my case a cup of Tazo Mint Tea and be just right at home. Ahhhhhh. Relaxation.
I really want those pants and the shirts. I have this thing about tees and tanks like that lately. Anyway there is a great sale and these are just somethings I was eyeballing. Those sandals would be great to run after  the tiny child in. But wouldn't you guess it(pffft ha) that the outfit for the tiny child is NOT on sale. Go figure.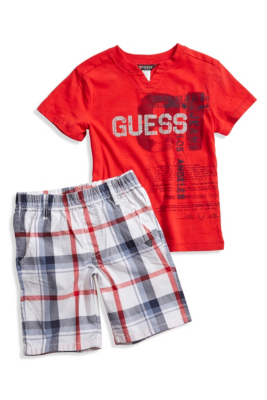 My picks.
Elenor linen pants (several colors available) / Gisselle strappy sandals (several colors available) /Agnes tank  /chain-trim round sunglasses  /  senuri carryall / square logo sunglasses / Darcy Bermuda shorts(I like the green ones) / Tehra Wedge Sandals  /  Tracy Tee / Dearest Booties(I know these are more "fall like" but I have been trying to get a pair of gray booties all freaking season since FALL! And these are on sale for $29.95!) / Aeriel Skinny ankle jeans   (if you are the type that can wear white pants without spilling then these are for you! So cute! Me? I can just look at them and somehow coffee ends up on them or spaghetti sauce.)
Well, there is more than that but if I showed everything we would be here all night and into Monday!
Extra 30-50% Off Sale Items
There is an additional chance for savings with this here on Guess Factory store. Happy shopping friends!
15% Off and Free shipping when you join our mailing list!

Sorry for no OOTD today, my sinuses decided to attack me after I went on a dust bunny killing frenzy! Also if anyone has had issues with The Evil Within not loading after downloading the DLC, does it annoy you as much as me?  Ok Gamer rant over! Have a great weekend my friends!